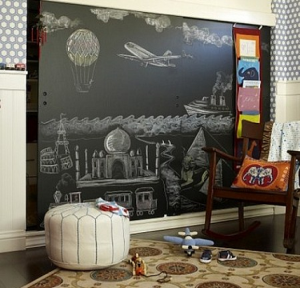 If children are not given some surface to scribble on, sooner or later they may decide to experiment with your expensive wall surfaces. A blackboard is easily made and gives hours of pleasure to children of all ages. This one is made from 6mm thick particleboard or plywood. Assemble the materials listed and follow the cutting directions. Making the unit takes only 6 straightforward steps.
(See Drawing)
To cut out.
Following the measurements given, transfer the cutting lines to the particleboard and mark each piece lightly in pencil with its identifying letter. Cut the following parts from 6mm thick particleboard, following the layouts in the diagrams.
Blackboard A 1 – 800 x 700mm
Legs B 4 – 500 x 155mm
Ends C 2 – 1200 x 250mm
Chalk tray bottom D 1 – 700 x 60mm
Chalk tray front E 1 – 700 x 40mm
Storage box sides F 2-700x95mm
Box ends G 2 – 220 x 95mm
Box bottom 1 – 688 x 220mm
From solid timber:
Cut 2 cleats (for back of blackboard) each 18 x 18 x 800mm solid timber.
To assemble blackboard:
Step 1,
Make up the storage box by forming F and G pieces around H. H should fit inside F and G and F then overlaps the ends of G. Using PVA adhesive and panel pins, glue and pin these pieces together.
Step 2,
To make the sides, 2 places B should be attached to each C. Make sure C is upright by matching the bottom of C with the cut-out section of each B piece. Glue together and pin from both sides of the B pieces.
Step 3,
Nail and glue the pieces I to the back edges of A. Make sure the cleat is parallel with the front edge of A.
Step 4,
Attach pieces C to A making certain A follows the same line on each C piece (50mm margin as shown on drawing). Drill holes for screws in C and screw into I to make a strong join. Dip screws in glue before fixing and do not overtighten.
Step 5,
Place storage box in position and glue and pin pieces G to the ends C.
Step 6,
Position piece D in place and glue and pin to bottom of A. Attach E by gluing and pinning to D and each C piece. Sand all surfaces and edges ready for painting.
Fill edges with a suitable filler and paint unit a bright enamel colour. Paint the surface of the blackboard with special blackboard paint (usually in black or green colour).
Materials you'll need:
2 sheets 1200 x 600 plywood or 6mm particleboard
1 sheet 1200 x 900 plywood or 6mm particleboard 

2 pieces 18 x 18mm solid timber cleats each 80Omm 

8 long thread particleboard screws, 12mm panel pins 

1 sheet fine sandpaper 

PVA adhesive 

Clean soft rag for clean-ups 

Suitable filler 

Blackboard paint 

Enamel to paint frame
Tools you'll need:
Drill

Sharp panel saw 

Carpenters pencil

Metric rule