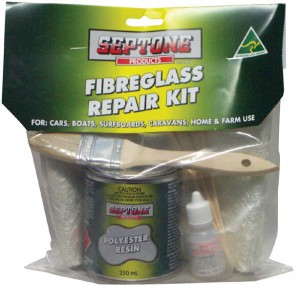 Fibreglass is the common name which describes a combination of Polyester resin with glass fibre reinforcement used in your boat.
Fibreglass hulls and combings can be maintained with a fibreglass repair kit. This usually comprises polyester resin and hardener in separate containers, inert filler for making polyester putty, chopped strand fibreglass mat and clean-up solvent. Mixing cups, spatulas and measuring spoon may also be included. Instructions should be provided.
To repair a fibreglass boat.
Before commencing ensure you wear suitable protection on your hands and arms so as not to come in contact with the fibreglass. Clean away all fragments and cracked paint or other coatings from the damaged section using a sanding disc, emery cloth or other file then brush or wipe out loose fragments and dust.
All tools putty knife, brush for the resin, etc. must be cleaned with acetone or clean-up solvent- Turps or kerosene should not be used.
Punctures.
Cut a section of fibre mat to fit the area Brush resin hardener onto the damaged area then work the same mixture well into the fibre mat, removing air bubbles with the flat of a knife-
When mixing filler to make up putty, take care not to use too much filler or the putty won't set hard or evenly. The filler should be worked into the depressed area and the impregnated mat bedded firmly over the top. Work the mat smoothly down onto the edges of the repair using enough resin/hardener to keep the edges covered.
Splits and cracks.
Cracks should be repaired before the crack can spread too far.
The putty should be worked into the cracked area. If the crack is very fine, ease it open and run in resin/hardener mix, then seal with putty. Fibreglass mat can also be used as a bandage to strengthen split or cracked oars. Weight or clamps hold the repair faces together until the fibreglass sets.
Uneven spots can be smoothed out with suitable stopping putty.
Google+ Comments